Beyonce Mixed-Raced Ads for L'Oreal.
(ThyBlackMan.com) The latest controversy in Beyoncé Knowles news may be her breast-feeding Blue Ivy in public, but I'm still shaking my head about the recent fuss over her True Match commercial for L'Oréal, which highlights the singer's mixed-race heritage. In the ad the star says, "There's a story behind my skin. It's a mosaic of all the faces before it." Apparently this is controversial to some, who suggest that the singer is trying to distance herself from African Americans. Come again?
News flash: As revealed by Harvard professor Henry Louis Gates Jr. (who is also The Root's editor-in-chief), the majority of blacks in this country are of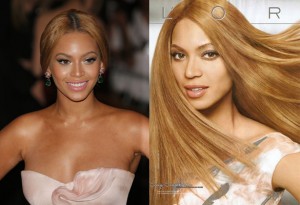 mixed-race heritage, as are many throughout the Diaspora. I find it interesting when critics try to erase history in an attempt to promote the idea that we're 100 percent black. The truth is that the history of African Americans is a history of mixed-race ancestry — some of it by choice, and much of it by force. Many blacks in America and throughout the Diaspora are no more 100 percent black than those who identify as white people are 100 percent white. Just because you say it doesn't make it so.
Mixed-race blacks have existed long before we were allowed to check more than one racial category on U.S. census forms, so this outrage over the singer's identification of her racial heritage because it's some form of self-loathing is misplaced.
Finish story over at; TheRoot – Beyonce Black or Not, etc.
Also follow TheRoot on Twitter; http://twitter.com/TheRoot247.
and Facebook; http://www.facebook.com/TheRoot.