The Oscar: On Monday Morning, Viola Davis.
(ThyBlackMan.com) Recently, Viola Davis appeared on the Oprah Winfrey Oscar special, via the OWN network. I was mesmerized with her soul as a human being. Have you ever tapped in to the human spirit, and realized that you connected with the individual before you, though you can't touch them? That is how I felt, while I watched Mrs. Davis in her interview. When the actress strides down the red carpet of the Oscars award ceremony this Sunday, she will be wearing many hats accumulated over the years.
This weekend, Viola Davis' story will reveal that she is a survivor of being called a nigger in her adolescent years, growing up living in poverty, and she will carry the memory of her father, and the addition of being a new mother/wife to her resume as well as being African American actress accomplished in theatre and film. The latest movie that she is starring in, "The Help," has garnished many awards, and is not her best work in my opinion. However, this weekend her walk down the red carpet will signify that she has reached a pinnacle of success that sums up to being: The Best.
"The Help," was written in 2009, by a white female writer, Kathryn Stockett.   The novel introduces readers to African American maids and their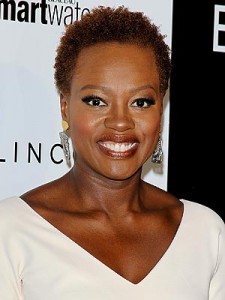 experiences with white families (particularly with white women) in the early 1960s.  The book has been ridiculed by African American organizations, critics, and movie-goers. In like manner, Viola Davis defends her role, by simply saying that she brings life to her characters. Which is the point of acting, right? Octavia Spencer acts alongside Viola Davis in the film and has also been honored for her role in the movie. They both give riveting performances. Each actress brings humanity, dignity, and honesty to their character's voices. And, Viola Davis, in character, depicts what many African American women were feeling during that time—regardless of their status in society.
Viola Davis was given the opportunity of a life time to portray several women that she knew in her own life—in this movie. Her mother was a maid. The African American actress was born on her grandmother's farm in St. Matthews, South Carolina. She is the second youngest of six kids. Her family moved to Rhode Island, when she was very young. They were the only black family in their neighborhood for years. Young Viola was often teased in school regarding her skin color, called out of her name, and lived in a home that was falling to pieces. Viola Davis persevered through it all. The budding actress has two Tony Awards under her belt to prove it.
As I looked at Viola Davis in, "The Help," I thought of Denzel Washington and what he brings to the screen and Cicely Tyson. Each one possesses a grace about them, and can make you feel their character's soul-spirit. She deserves to be standing next to her peers. Viola Davis is that damn good.
Regardless if the actress wins the coveted Oscar this weekend for Best Actress in a film, on Monday morning, Viola Davis can look in the mirror and say to herself,  "You iz smart. You iz kind. You iz important."
Associate Editor; kYmberly Keeton
To learn more about this talented writer feel free to visit; Kreative Young Millionaire, Inc….
Need a website or blog? Head over to; Kym K Balance Network.