ATLiens and Liverpudlians: OutKast Meets The Beatles…
(ThyBlackMan.com) The dudes from the ATL grew up eating fish and grits. Fish and chips were a common childhood fare for the lads from Liverpool. Both groups became famous for songs with similarly affirmative refrains: The "Yeah, yeah, yeah" of the Liverpudlians is translated to "O-yea-yer" in ATLien speak.  I love a great rock band. And I can get down with a chill rap group. Confessedly, I'm a Beatle-maniac and passionately, I get down with OutKast. According to Captain Obvious, "The Beatles are the greatest rock band ever." And in the ever-expanding hip hop cosmos, it simply doesn't get any bigger than OutKast (the record Speakerboxxx/The Love Below holds the distinction of being the only album solely consisting of hip hop to win a Grammy Award for Album of the Year). With the 4053 miles of land and sea that separates Atlanta, U.S.A. from Liverpool, England and the distinct songwriting structures that distinguish rap from rock, The Beatles and OutKast should be, artistically speaking, oceans apart—or so it seems.
By the coronation of many, The Beatles and OutKast are enthroned as kingly prototypes of their respective musical genres—rock and rap. Whether I'm taking the elevator up to the 13th floor or going for a brisk run down a long and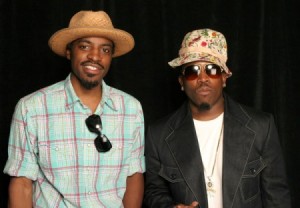 winding road, it is likely that the music of The Beatles and OutKast will be spraying through my earphones like an open fire hydrant.
Not many pedestrians crossing Abbey Road or southern kinfolk cruising the streets of Headland and Delowe would ever connect two groups so markedly separated by genres and generation. What more could the fab four and this dynamic duo have in common other than winning Grammy awards and engaging in vast sound board experimentations?  
As I allowed the biopic reel of both groups emergence from obscurity to opulence to play back in my mind, I was struck by an intertwining of narratives; especially in the dynamics that exists/existed between the groups' four front men: John Lennon and Paul McCartney and André Benjamin (André  3000) and Antwan "Big Boi" Patton (also known as Sir. Luscious Left Foot).
Both songwriting teams met during motley high school years as they were navigating through rites of passage and the early stages self-discovery. The tension of creative competition that defined both duos initial encounters with each other quickly eased into a sense of mutual respect. Unfazed by their shaky initial record label auditions, The Beatles and OutKast quickly accelerated into rock and rap tour de forces.
Musically, the lads from Liverpool and the dudes from ATL struck an impressive balance between paying homage to their childhood influences (such as Smokey Robinson and the Miracles and Parliament-Funkadelic) while enforcing a policy of originality in light of their own creative content. Both groups' organic sound initially manifested in hole in the wall clubs of 1960s Liverpool and 1990s Atlanta. But neither of their stories would end in these nightspots. Driven by relentless creative curiosity, both The Beatles and OutKast would eventually convert state-of-the-art music studios into experimental sound labs. The result: scores of fans from all demographics getting high off of the spirit emanating through the groups' melodies and beats. Even so, John Lennon's glib comments about Jesus Christ and OutKast's song titled Rosa Parks proved that neither group would rise so high that they would be beyond the reaches of lawsuits and controversies. No artist ever does.  
Though artistically excellent, James Paul McCartney and Antwan "Big Boi" Patton are classic showmen. Music serves as their muse and they notoriously feed off of the energy of the crowds. Notwithstanding entertainment's infamous pressures, McCartney and Patton have managed to dial into the euphoria of connecting with people through their music and this satisfaction fuels their drive to produce—and to keep producing.
But please don't get it twisted: John Lennon could and André 3000 can ascend upon a stage and render an audience utterly spellbound. They are showmen in their own rights; but they are artists first. It was important to Lennon and is currently essential for André 3000 to summon artistic inspiration by dallying in other creative realms beyond the sphere of show business. Ironically, both the Liverpudlian and the ATLien embraced sketching cartoons as a mental route of escape when the pressures embedded in a lifestyle of fame and floss began to mount. Eerily, both Lennon and Benjamin became intrigued and had sons with famously forceful women who trended to the avant garde—Yoko Ono and Erykah Badu.
A clash of priorities between the showmen and the artists was a forgone conclusion. McCartney and Big Boi tend to favor bustling and blistering tour schedules. Like Lennon, André 3000 does not enjoy touring. Sir Paul and Sir. Luscious Left Foot are notorious studio-holics. André 3000 and Lennon are the quintessential roving souls who fancy/fancied meandering here, there, and everywhere filming movies, taking in conceptual art, and befriending bohemians. André 3000 explained, "As you get older, you have to go out and get your own space." The creation of that space and the evolution of their individual musical personalities can clearly be heard in the groups' epic masterpieces The White Album and Speakerboxxx/The Love Below.
The Lennon-McCartney songwriting fortress eventually caved under the pressure of music industry politics. The famous childhood friends from Liverpool sadly became bitter courtroom adversaries. The tension between the two Liverpudlians persisted until an assassin's bullet prematurely ended Lennon's life in 1980. When I presented this comparison and contrast dynamic to Big Boi's younger sister, she immediately communicated to me her deep belief that OutKast will never spiral into a legal jousting match against each other. "Big Boi and André 3000 are brothers first and entertainers second. They are the godfathers of each other's children for crying out loud!" she exclaimed.  
Amid the intensifying demands of family life and the creative tension of increasingly individualistic explorations, The Beatles still managed to chisel magnificent music from the rolling stones of disillusionment and divergent paths in the late 1960s. Likewise, heads and feet will soon be bobbing and tapping again to the new and infectious beats that have become synonymous with the OutKast brand; especially now that the group has settled into a more ideal label situation with Epic Records.
The intersecting dynamics between these two groups are not lost on the members of OutKast. André 3000 cited The Beatles first appearance on the Ed Sullivan show in 1964 as the inspiration behind his critically acclaimed music video "Hey Ya." This innovative music video was essentially an inverted depiction of the British Invasion of American music. "Hey Ya" for all intents and purposes represents southern hip hop's invasion of the British music scene. Bloody brilliant!
In view of all of these fascinating and intertwining narratives that connect Britain's fab four to this dynamic American duo, it seems The Frazier Homes Projects and Strawberry Field aren't so far apart after all.
Staff Writer; Marvin D. Rogers
Also connect with this brother via Twitter; M. Drogers.