Is anger Black women's legacy?
(ThyBlackMan.com) Anger is defined by most medical professionals as an emotion. The raw emotion of anger which, according to the professionals is healthy is usually brought about because an action has occurred that spurs some personal discomfort, dislike or some kind of irritation. Whilst anger is healthy, anger uncontrolled manifest itself into danger.
Last week I read Janet Hubert's "Thy Angry Black Woman, A Myth or Truth" and found some of her anger deeply rooted in myth. In the fury of Hubert's pen I discovered that she was angry because "lighter skinned black women [are] considered beautiful" – Hubert coins this "the politics of beauty."  Hubert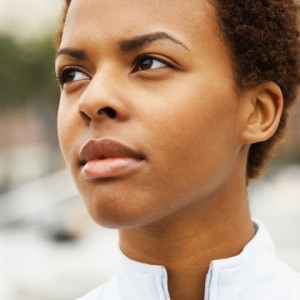 wrote that she was "outraged" because Essence – the premiere publication for black women – failed to recognize her beauty. Posing for the cover, Hubert's ethnic beauty was twisted into a caricature that mimic western societies view of exquisiteness – Hubert depicts that as, the "blonde black woman." There were several other reasons why the original Fresh Prince of Bel-Air mom was angry, but the most poignant – at least for me – was she asserted that the anger of black women is historical: "Our anger is historical, but mostly I think we are simply tired women. I know I am exhausted with the weight of everyday life and sometimes I just look damn angry."
Hubert's historical truth falls under the weight of her myth and that may potentially be birthed out of her anger, or might I submit her rage.
While Hubert has every right to speak to and for her anger and I have absolutely no right to oppose it – this is her truth, I can challenge her presupposition that historically black women espoused a spirit of anger – this is nothing more than Hubert's angry opinion. It's been said that misery loves company.
Ok; chattel slavery, segregation, jim crow and systemic sexism for sure had a constituent of black women disquieted. But let's not make a mistake – the strokes of history paint a portrait of black women who use their anger to render a difference – a difference that women like Hubert would benefit from; a difference that makes the weight of Hubert's "everyday life" much lighter than the weight of everyday life bared by her predecessors. 
Historically strength, in spite of anger, has served as the garment of black women. From the Candace queen of the Ethiopia to First Lady Michelle Obama, the supremacy of black women have been evident. Our great-great grandmothers were powerful women – not because they earned post graduate degrees, held high level corporate position, played television moms on primetime network television or took home huge salaries (none of those achievements were available to them) – but because in the face of their adversity they used their life as a sacrifice and a testament for future generations to include Hubert.  
Isabella Baumfree, once sold into slavery with a flock of sheep, was sold on four occasions – I'm sure she was tired and the weight of her everyday life was heavy. She was beaten severely by John Neely one of her four slave owners. But Isabella challenged the indignity she was confronted with by first changing her name to Sojourner Truth; she said "The spirit calls me and I must go." Truth then began to change the mindset of a people. The same "politics of beauty" that Hubert credits for her anger was handled angelically by Truth when she challenged a nation by asking, "Ain't I A Woman."
Ms. Hubert, I ask what about the indignities of Harriet Tubman beaten by her master to the point of suffering a severe head injury. I'm almost certain that was something that caused a fury in Tubman. Share with me why Tubman responded to her life's indignities by channeling her anger to boldly lead a mission of freedom for those still gripped in slavery. Please Hubert, self professed "real black woman," explain how my grandmother born a year prior to the death of Tubman worked six days a week in Dr. Carrol's home – cleaning, cooking and caring for his family and did so knowing the "essence" of her work wasn't what defined her. Help me wrap my diminutive thoughts around how that same grandmother – five minutes after learning that her eldest child had been murder, prayed for the soul of the man who murdered her son. My grandmother – "a real black woman" – sowed love right smack dab in the midst of her hardship. Ms. Hubert please provide for me some insight on how my wife – when confronted by the speech of disrespectful males – can with the calm of her response cause those same brothers to self-check their ill-mannered behavior. The "weight of everyday life" for the aforementioned women proved to be carried on scales absence the anger Hubert promotes.
I'm elated to have known, know and know the history of such women of strength.
Ms. Hubert, I read your article and my spirit felt as if you graciously welcome anger – so much that your desire is for other women of color to righteously embrace anger with the same vigor that you do. Well, I have facilitated one too many workshops were the anger felt by black women prevented them from experiencing the beauty of their spirit because that spirit was trapped under the boulders of uncontrolled anger.
Your pen, your page, your purpose and your right to provide the message that you desire, but I'm curious did generations of black women leave a legacy for you to look and proudly respond with so much damn anger?
Staff Writer; Reginald Williams
For more articles on Relationships visit Rule Your Wife and for Marriage Counseling; Marriage Nectar.