Herman Cain, Rick Perry Niggerhead saga…
(ThyBlackMan.com) I was beginning to think there was hope for Herman Cain. In recent weeks his campaign had begun to take flight as he doubled down on his conservative values. Cain isn't a man of nuance. If he was against it yesterday, he's against it today. If he says it, he believes it.
Yesterday, Cain responded to a Washington Post that claimed Governor Rick Perry's family held political events at a hunting parcel known as "Ni**erhead." Without batting an eye, Cain rightly called it "insensitive."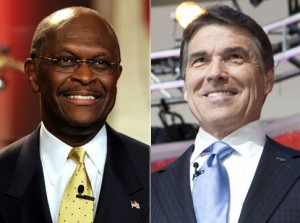 Perry's father, according to reports, leased the land in the mid-80s. That's  where things get foggy. If Perry is to be believed, he urged his father to remove the racial epithet and that his father did so shortly there after. If sources (and many of them anonymous) can be trusted, then the rock bearing the name was still visible as late as 1991. Either way, the hunt club is still known informally as "Ni**erhead". Presumably, no African-Americans participated in the events held there. It all sounds like an inside joke among good ole boys.
Well, yesterday the joke was on Cain if he believed his Republican compatriots would follow him in condemning what is at the very least a case of cultural insensitivity and, at most, evidence of deeply rooted racial intolerance.
Finish story over at; TheGrio – Herman Cain, etc.
Also follow TheGrio on Twitter; http://Twitter.com/TheGrio.
and Facebook; http://www.facebook.com/theGrio.