Dr. Boyce Watkins; Black Unemployment Shoots Up During August…
(ThyBlackMan.com) The Bureau of Labor Statistics has released its most recent unemployment data.  We knew that black folks (especially men) would be at the bottom, we just didn't know how bad.  Well, it turns out that the numbers exceed even the most pessimistic predictions.
Black unemployment shot up like a rocket during the month of August, rising from an abysmal 15.9 percent to an even more shocking 16.7 percent.  Much of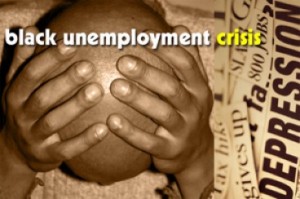 the increase was driven by black male unemployment, which rose from 17 to 18 percent.  Black female unemployment remained steady at 13.4 percent, and black teen  unemployment experienced a dramatic increase from 39.2 percent to an astounding 46.5 percent.
If you were white in America, the month of August was pretty good.  White unemployment remained consistent across the board, and went down for white males.  Overall white unemployment dropped from 8.1 percent to 8 percent.  White males saw a decline from 7.9 to 7.7 percent.  White women and teens saw their unemployment rates remain unchanged at 7 percent and 23 percent, respectively.
It's difficult to have patience with any American who complains about white unemployment rates.  What whites scream about during recessions would be considered good times for the black community.  In fact, at this point, we dream about having an unemployment rate of 7 – 8 percent.  But some have been convinced that African Americans don't even have the right to voice their opinion about unemployment rates that would have some ready to riot in the streets.
The president has a serious problem.  Every time the numbers show that chronic black unemployment has reached crisis levels, I think back to the Obama Administration's delusional assertion three years ago that a "rising tide will lift all boats" (that targeted economic policy would not work as well as a general policy that helps everyone).  Well, I'm here to report to the Obama Administration:  The tide not only missed our boat, but black folks are sinking to the bottom of the economic ocean.
With each passing month, the devastation becomes more persistent, painful and disturbing.  It's hard to celebrate a memorial for Dr. King, when the only thing left to memorialize is the economic death of our community.  Something has got to give.
Staff Writer; Dr. Boyce Watkins
Dr. Boyce Watkins is the founder of the Your Black World Coalition. For more information, please visit http://BoyceWatkins.com.