Dr. Boyce Watkins; Cornell Student George Desdunes Dies At the hands of Frat…
(ThyBlackMan.com) Marie Lourdes Andre learned a lesson about college that far too many parents have yet to understand.  College, while it is the place that can make your child's dreams come true, is also a place where they can live out their worst nightmares.   Ms. Andre, the mother of a sophomore at Cornell University, is suing a fraternity for $25 million dollars after the fraternity's leadership blindfolded her son, bound his hands and feet and made him drink enough alcohol to kill himself.
When George Desdunes went to the hospital, he had a blood alcohol level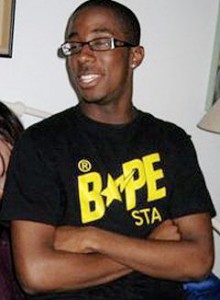 of .409, which was four times the legal limit, according to the suit filed by his mother.  Sigma Alpha Epsilon is the group to which her son donated his life, so they are the target of her lawsuit.
George was planning to become a doctor one day.  His mother also says that he was once in the church choir and played the trumpet.  Attorneys say that he was captured by freshman "pledges" of the fraternity, who set up a series of tasks and punishments for Desdunes that involved massive amounts of alcohol consumption.
"I call it inmates running the institution," said Andre's lawyer, William Friedlander, referring to the SAE hazing. "This is a terrible tragic case. He was a really great kid."
After Desdunes reportedly passed out, he wasn't taken to the hospital.  Instead, he was taken to the fraternity house, where he was still bound, and left on a couch in the library.  The housekeeper found him the next day and called 911, where he was announced dead at Cayuga Medical Center.
After being on college campuses for the last 22 years, it baffles me that there isn't a greater effort to slow the epidemic of binge drinking that still takes place.  Alcohol was found by British scientists to be the most dangerous drug in our society, surpassing crack, heroin and all the other usual suspects.  For some reason, there are those who think that drinking and college should come as a package, as if drinking until you vomit every weekend is just a natural part of growing up.  Sorry my friends, but the reason your body is rejecting the alcohol is because it is invoking a defensive response to the fact that you are trying to kill yourself.
As you send your child to college, make sure they are fully educated on the dangers of binge drinking.  Every year, professors like me know for a fact that there are going to be so many rapes, murders, arrests, assaults and drunk driving accidents as a result of alcohol consumption.  There are students going to college this fall who will have their lives ruined during some kind of alcohol-related incident, and it will likely be because the adults around that child didn't have the courage to warn him/her about the dangers of excessive drinking.
Just this year, I've written about an athlete (DJ Henry) who was killed by police at a night club after a night of heavy drinking, an Omega Psi Phi fraternity member who was shot at a party, and another group of young black football players who were shot at a night at the club.  While there is a part of me that clearly understands the desire to have fun in college (I had a blast), there is another part of me that wondered how much study time these kids lost during their hours of drinking themselves into a bad situation.  In fact, I know a long list of middle-aged alcoholics who took their first drink on a college campus.
The culture must be confronted, and we must help our kids make better decisions.  College must be a place to learn and grow, not the pace where you're going to die.
Staff Writer; Dr. Boyce Watkins
Dr. Boyce Watkins is the founder of the Your Black World Coalition. For more information, please visit http://BoyceWatkins.com.