Five simple screenings: Right path to healthy life…
(ThyBlackMan.com) One in two Americans is living with a chronic disease. Chronic diseases are persistent and recurring, and are typically either hereditary or the result of factors such as poor diet, obesity or lack of exercise.
Dr. Ian Smith, creator and founder of "The 50 Million Pound Challenge" and "The Makeover Mile" is a health and nutrition expert who is constantly encouraging Americans to be proactive when it comes to their health.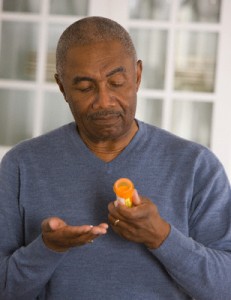 "Unfortunately, many Americans postpone or even skip key health screenings due to fear, lack of awareness, or cost concerns," says Smith.
"However, it's important to know your risk so you can make the appropriate lifestyle modifications to change—or reverse—the course of chronic disease."
Smith recommends five simple screenings as a first step in determining whether or not you are at risk for a variety of treatable—and preventable— chronic diseases. These screenings will be available for free as part of "The Makeover Mile," which he is presenting with CVS/pharmacy in conjunction with their "To Your Health" program in seven major cities across the country.
Diabetes
A simple finger prick is all that is needed to check your blood glucose levels to see if you are at risk for diabetes. If your blood glucose test shows that you are at risk for diabetes, your doctor will work with you to make certain lifestyle changes, particularly involving diet and exercise.
Blood pressure
Blood pressure is measured by a quick, painless test using a rubber cuff that is wrapped around the upper arm and inflated. If your blood pressure is consistently high, your doctor will likely recommend lifestyle changes, such as exercise, a healthy diet, quitting smoking, limiting alcohol and/or recommend a maintenance medication.
Cholesterol
Even though high cholesterol may lead to serious heart disease, most of the time there are no symptoms, which is why it is important to have your cholesterol levels checked. A rapid cholesterol test involves just a simple blood sample from the finger. As with diabetes and blood pressure, lifestyle changes such as exercise and weight loss, maintaining a healthy diet, and quitting smoking are recommended if your cholesterol levels are not within a healthy range. If the added measure of a maintenance medication is needed to keep your cholesterol at a healthy level, it is important to make sure that the medication is taken regularly, as prescribed.
Other important screenings—Osteoporosis and Vision.
These two other important screenings shouldn't be overlooked. A simple bone mineral density test, done via low-dose X-rays, determines whether or not you are at risk for osteoporosis, a disease that causes bones to become fragile and more likely to break. Additionally, a vision screening can help identify whether or not you are at risk for eye disease.
(For more information and to find an event in your area, visit http://www.cvs.com­/toyour­health. For more information about "The Makeover Mile" visit http://www.make­over­mile.com.)