Dwyane Wade sets strong example for black dads…
(ThyBlackMan.com) If the African-American community is going to throw a Holy Ghost party because Dwyane Wade has decided to do what the overwhelming majority of black men refuse to do — take full responsibility and custody of his two sons — then I'm afraid the crisis of absentee fatherhood, perhaps the single biggest contributor to the disproportionate number of black men in prison compared to whites, still isn't resonating as it should.
A U.S. Census Bureau Report issued last Oct., revealed that while blacks make up 12 percent of the U.S. population, in 2006 41 percent of the nation's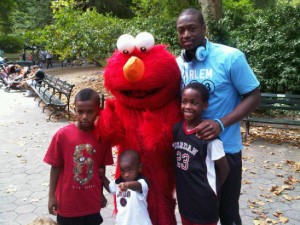 2 million inmates were black. I'm willing to bet that the overwhelming majority of them grew up without a father active in their lives.
On Monday, the image of a smiling Wade and his sons, eight and three, respectively, was all over the Internet. Over the last two years, an image of Wade's ex-wife, Siohvaughn, has emerged as a woman who physically abused the NBA superstar. She accused Wade of passing on to her a sexually transmitted disease, not spending enough time with their children, and of adultery.
Upon winning custody, Wade, named the 2007 "Father of the Year" by the National Father's Day Committee, reiterated that he wanted his boys to have a healthy relationship with their mother, who was awarded alternate weekends with the boys in Miami.
"My life changed in a huge way," a relieved Wade said. "Mentally, I've been preparing for it for over a year now. To me, it's bigger than that. For me, it shows a lot of people that you need to fight to be in your kids' lives sometimes. You fight until you can't fight any more. That's all I was trying to be, a father in my kids' lives."
Unfortunately, the reality in the African-American community is that this type of thinking by black men is almost an alien notion if we are to believe most studies on the absentee black dad.
Revel in Wade doing what he should do; what he feels is his natural duty, what any real man should feel compelled to do the moment his child springs forth from its mother's womb. But viewing this as some sort of civil rights benchmark is almost as foolish as cheering the not-guilty verdict in the O.J. Simpson case while ignoring the freshly minted black convicts who that same day in 1995 flooded into penitentiaries across the nation, 90 percent of them — and that's probably on the low end — for crimes committed in their own neighborhoods, against their own people.
Consider, if you will, a report released last October by the Council of Great City Schools that addresses the crisis some called leaders would prefer to call "dirty laundry" rather than what it is actually bordering on: self-inflicted genocide.
*Seventy percent of all African-American children are born to unwed mothers.
*Black children are three times more likely than whites to live in a single-parent home.
*In 2008, black males were imprisoned at a rate six-and-a-half times higher than white males.
*By the time they reach their mid-30s, a majority of black men without a high school diploma has spent time in prison.
Not for one second do I discount the role of racial and economic injustices that have helped to decimate the black community decade after decade after decade. Nor am I ignoring the ongoing deterioration of the public school system in the big cities and the poor rural south that are so dominated by black faces.
But in this depressed economy, isn't it at least common sense to suggest that if there ever were a time for black families to coalesce that time is right here and right now?
This deplorable state hasn't been orchestrated solely under the conduction of black men. No, he often has a willing accomplice in the black women. Too often, the black woman makes it impossible for her mate — already marginalized from the time he exits the front door until he comes home — to find rest in her bosom. There are thousands of extraordinary black men who desperately want to do right for their children.
But make no mistake about it, there are just as many black women who embody the monstrous matriarch from Precious, if not in the way she was played by Mo'Nique than in other abominable incarnations, making life with her under the same roof unbearable.
When a horrifically bad team plays better than expected but still winds up on the losing end of a game, sportswriters, searching for a storyline, like to suggest to the coach of the scrubs that this was a moral victory. And oftentimes the coach, wanting to blunt the pangs of yet another loss, will follow along with the mindless narrative.
He'll take the easy way out.
Wade didn't. Applaud him.
But don't think for one minute that he is the rule and not the exception.
Written by John Mitchell
Official website; http://twitter.com/jmitch65